The snap:bit is an electronic component for the Snap Circuits educational electronic kit. It features a socket for connecting the BBC micro:bit. This allows the Snap Circuits to be programmatically controlled by the micro:bit.
All features of the micro:bit like the accelerometer and compass, the light and temperature sensors, the radio and Bluetooth, are available for a completely new experience with Snap Circuits!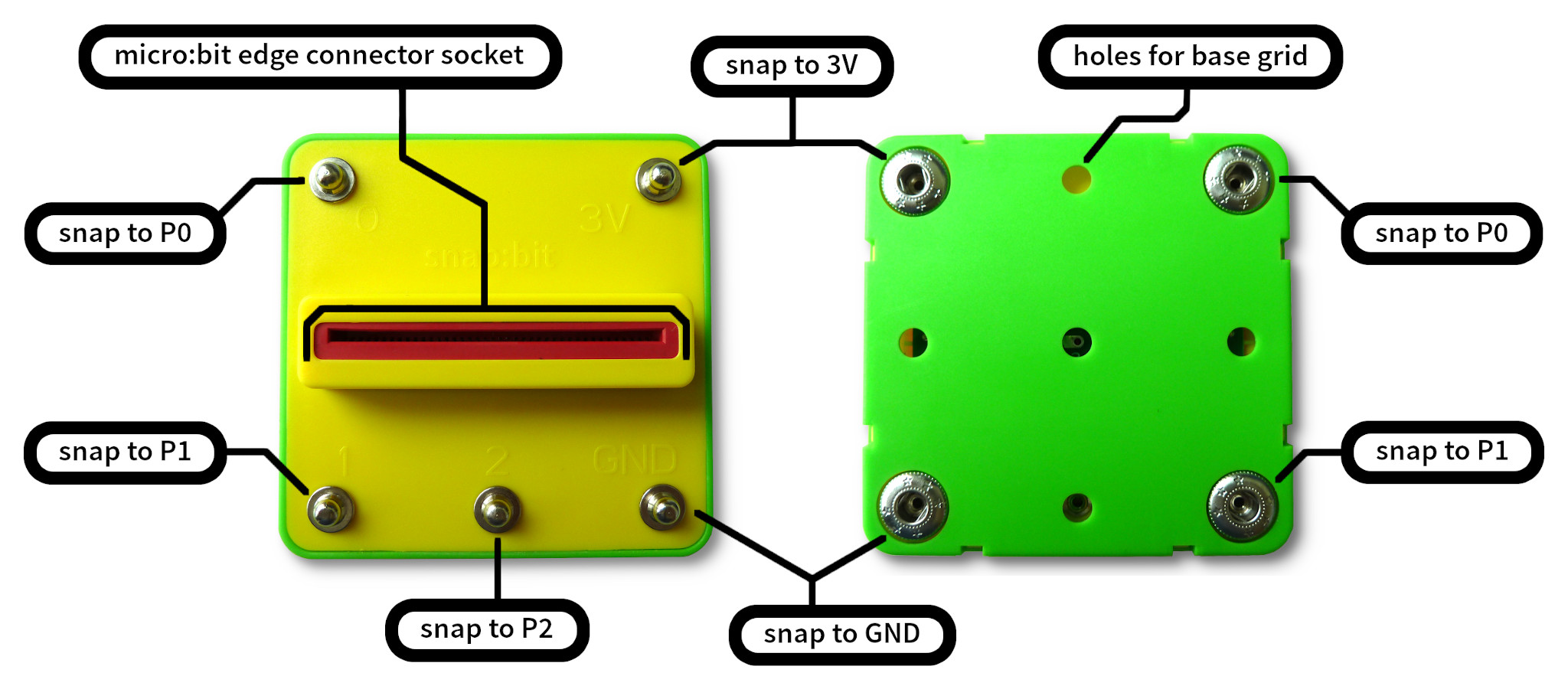 Features
A socket for the BBC micro:bit edge connector.
5 snap buttons connected to the 5 major micro:bit pins: P0, P1, P2, 3V, and GND.
Compatible with Snap Circuits and similar electronic kits.
No need for crocodile clips, banana plugs, or other cables.
Plenty of exciting projects using easy to learn block diagrams.
Robust, kid-friendly design.
Extension Kit
The snap:bit breakout board:
Provides access to all 21 pins of the BBC micro:bit.
Allows connecting more than 3 SnapCircuit parts to the BBC micro:bit.
The Snap Circuits parts can be connected with standard snap-to-female cables.

The snap:bit extension kit includes:
1 x snap:bit breakout board
5 x snap-to-female cables, different colors
Compatibility
Works with the BBC micro:bit V1 & V2.
Works with other PCB boards and accessories that feature the micro:bit edge connector.
Works with all Snap Circuits educational kits.
Works with other educational kits with snap buttons compatible with Snap Circuits.
Projects
The snap:bit comes with a list of projects designed to guide you with the first steps of using the BBC micro:bit and Snap Circuits together. The projects are easy to learn block diagrams using the MakeCode Editor.
The variety of projects ranges from easy lessons to more complex and exciting projects. Although they teach lots of basic programming concepts and take advantage of most micro:bit features and Snap Circuits components, the possibility of projects are limited only by the kid's imagination!